Music soothes the soul
Music is known to soothe or energise the human soul. For many people, music is present throughout the life-span. People with dementia often suffer from symptoms of anxiety and agitation. Anxieties may include worrying, motor tension, autonomic hyperactivity, phobias, panic attacks. Under the latest legislation, there is more awareness from the staff's approach in treating the symptoms of dementia without the use of chemical and physical restraints. Many health care providers recognise the moral rights of people they are caring for and are exploring non-pharmaceutical interventions such as music therapy. The understanding and implementation of how we can assist older people in health and also for their enjoyment are vital in modern care times.
Music is widely accepted to alter the physical, emotional and social behaviours to obtain optimum levels of capabilities to function in everyday activities. Music, when heard, is analysed and processed by the frontal and premotor parts of the brain, and also activating our attention and working memory. Music is closely linked to a network of neurochemically charged limbic regions that regulate our emotions, arousal, and cognitive functioning. This is because the emotional and social impact of music during the younger years meant the development of one's self-identity in the formation of interpersonal relationships, and learning how to manage stress and negative emotions. Therefore, music continues to play an essential role in ageing, where emotions and moods are both remembered and regulated. Often, people revisit emotions attached to their self-esteem and independence, as well as reducing their feelings of loneliness and isolation.
Music is also used as a way of communicating with people with dementia because the part of the brain where music has been retained in people with dementia is the last to deteriorate (Vink et al., 2005). By including a schedule that introduces regular live music group therapy can aid in reducing agitation and anxieties. Music group activities, similar to reading group activity, are opportunities for people with dementia to improve on their speech and verbalisation behaviours.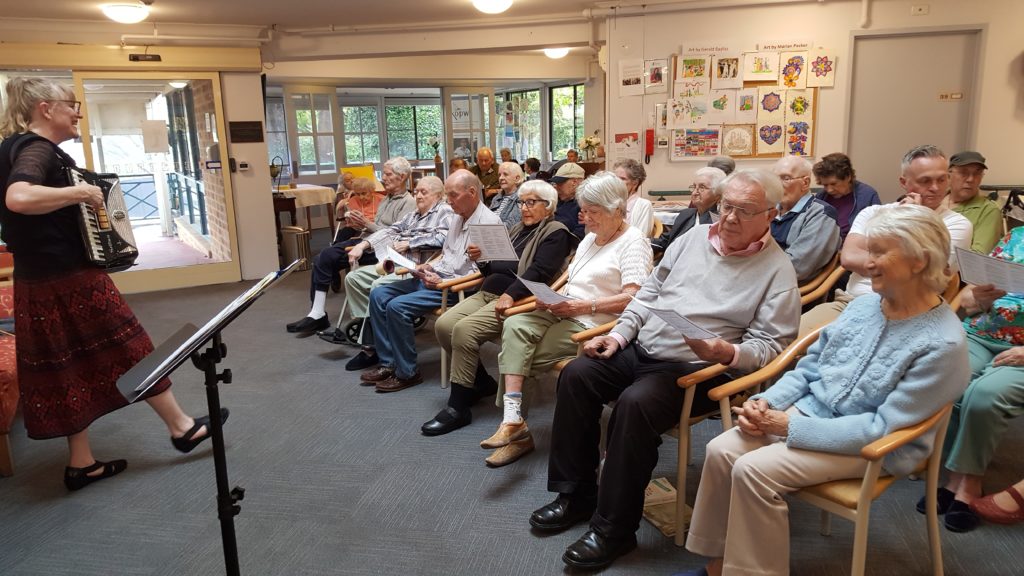 For more details on KOPWA's music intervention approach, contact us.